Speeding Tickets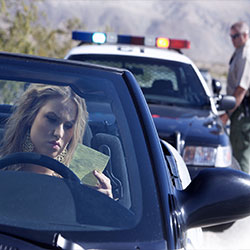 Speeding Ticket Lawyer. Speeding tickets are a common traffic violation for drivers. Innocent mistakes or simple carelessness can lead to being pulled over by law enforcement for speeding. While a speeding ticket may seem like an insignificant matter, too many speeding tickets can lead to serious consequences- including license suspensions or revocations. Consulting a traffic ticket lawyer will help you determine the best course of action.
A speeding ticket that you plead guilty to does not necessarily have zero repercussions. Even if you pay your fine on time, your car insurance rates can increase. If you have been pulled over by law enforcement and given a speeding ticket, a legal professional with experience in traffic law may be able to reduce the severity of your violation. The law office of Flanagan & Peel, PC, has the skilled speeding ticket attorneys capable of expertly handling your speeding violation case. We can provide you with the assistance you need to keep your traffic violation off of your permanent driving record and avoid increased insurance premiums.
Skilled Traffic Violation Attorneys
The speeding ticket lawyers of Flanagan & Peel, PC, make it their priority to serve clients with an honest approach to legal consultation. We believe that open communication is key to building trust in a legal services partnership. Our traffic ticket attorneys have experience with a wide range of traffic violations. We promise our clients that we will be prepared and know the law as it pertains to their case. Together we can determine the best options for getting a reduction or dismissal of your traffic ticket.
Learn About Our Firm
Free Case Evaluation
You may also be interested in: