Driving While Suspended Defense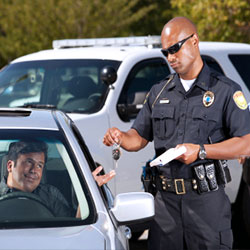 Driving While Suspended Lawyers. Even though it may seem like a small matter, a Driving While Suspended violation is much more serious than a normal traffic ticket. Being found guilty of driving with a suspended license stays on your permanent driving record forever, with no opportunity for removal at a later date and further loss of your license. In fact, repeated Driving While Suspended convictions can be used to enhance the charge to that of a felony; obviously that is something you should avoid. Before it's too late to remove the charges, it is important to call an experienced driving while suspended attorney to represent you in court.
The permanent scar on your driving record that comes from pleading guilty to a Driving While Suspended traffic ticket can lead to continued problems. With a DWS ticket on your record, insurance rates will spike. Even years after your ticket, you will still have to pay higher insurance premiums. Many times, people who are charged with driving while suspended do not even know their license has been suspended. It may be that you had no idea that your driving privileges were suspended and this may be a potential defense that can be presented on your behalf. The law office of Flanagan & Peel, PC, can offer you the strongest driving while suspended defense for your case.
Experienced DWS Defense Attorneys
The experienced traffic law attorneys of Flanagan & Peel, PC, are dedicated to providing our clients with the best representation possible in their driving while suspended violation. We are the traffic violation law firm of choice for clients with a driving while suspended charge. It is our priority to serve our clients with their best interests in mind. We believe that an open and honest communication channel leads to a meaningful client-attorney relationship.
Learn About Our Firm
Free Case Evaluation
You may also be interested in: