Federal Conspiracy Lawyers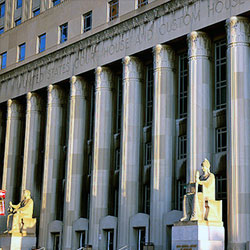 Federal Conspiracy Attorneys. A conspiracy happens when two or more people agree to commit a federal crime, and then commit an overt act to further the conspiracy. Federal prosecutors will often bring conspiracy charges, as conspiracy is a broad crime. To defend yourself against conspiracy charges, you need a skilled federal conspiracy lawyer to represent you in court. The attorneys of Flanagan & Peel, PC, know how to properly defend our clients that have been accused of conspiracy.
The nature of federal conspiracy charges make it much less difficult for federal prosecutors to prove a conspiracy took place rather than another crime. The experienced federal conspiracy attorneys of Flanagan & Peel, PC, understand the complexity of a conspiracy case. We have the knowledge to protect your rights and fight the charges of conspiracy that have been brought against you. Our team is committed to the best interests of our clients through open and honest communication in all regards to your federal conspiracy case. The law firm of Flanagan & Peel, PC, can assist you in protecting yourself against unfair conspiracy charges.
Federal Conspiracy Cases
Charges of conspiracy are a valuable tool for federal prosecutors. A person can be found guilty of a conspiracy charge without a federal crime ever actually being committed. Having a trusted attorney with experience in federal courts defend your case will help protect your freedom in a federal conspiracy case. At Flanagan & Peel, PC, we strive to work in the best interests of our clients by being prepared and knowing the law, and how it relates to your individual case, completely.
Learn About Our Firm
Free Case Evaluation
You may also be interested in: