Workers' Compensation Claims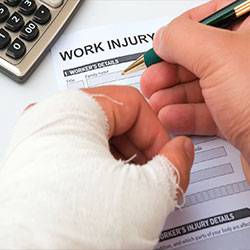 Workers' Compensation Lawyers. Unlike other personal injury claims, workers' compensation cases do not require you to prove that another person caused your injury through negligence. An injury that occurs in the workplace, and was not caused by willful negligence, should entitle you to a workers' compensation claim. The law office of Flanagan & Peel, PC, will fight aggressively for your case to get you the benefits you deserve so you can recover without worry.
Workplace injuries are unexpected and often involve expensive emergency treatment or hospital stays. An approved workers' compensation claim will allow you to receive the medical treatment and rehabilitative care you need. The attorneys of Flanagan & Peel, PC, can assist you in claiming the workers' compensation benefits to recover from your injury. We want to see our clients make a full recovery from a workplace injury, both physically and financially. Our team of experienced workers' comp lawyers put the needs of our clients above all else to obtain approval of your workers' compensation claim.
Workers' Compensation Attorneys
The Flanagan & Peel, PC, law firm has experienced workers' compensation attorneys who are passionate about helping injured workers. We know all of the present workers' compensation laws, and can help you file your claim within the allotted time frame. With our thorough understanding of the law and commitment to honest and open communication with our clients, Flanagan & Peel, PC, are the best choice in worker's comp lawyers.
Learn About Our Firm
Free Case Evaluation
You may also be interested in: