Adult Protective Proceedings & Guardianship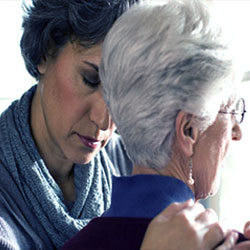 Adult Guardianship Proceedings. Families, especially those that include elderly members, may have to undertake the emotional process of another family member, such as a child or younger sibling, taking guardianship over an adult. A person of legal age that is incapable of being self-sufficient or managing his or her own assets and financial affairs may benefit from the protection that an adult guardian can provide. Families that choose an adult guardianship must go through protective proceedings to appoint a guardian.
An adult guardianship proceeding can be a draining and painful process for everyone involved. The family law attorneys of Flanagan & Peel, PC, can help your family through this trying process. We will help your family file a petition to declare a disabled adult family member incompetent, as well as guide you through the proceedings. Our dedication to being open and honest in communicating with clients means you will never be in doubt on the state of your petition. You can feel comfortable knowing you have the emotional and legal support of a strong team of family law lawyers.
Adult Guardianship Lawyers
At Flanagan & Peel, PC, we are proud of our reputation as honest, trustworthy family law attorneys. When your family makes the decision to appoint a guardian to a disabled adult family member, put your trust in the experts of Flanagan & Peel, PC. Our attorneys invest their time and emotional support to provide our clients with the best representation in adult guardianship court proceedings. We will work with you and the court system to make this stressful process as easy as possible.
Learn About Our Firm
Free Case Evaluation
You may also be interested in: