Driving While Revoked Defense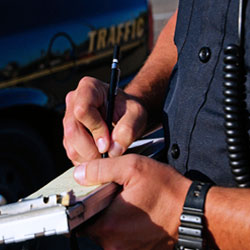 Driving While Revoked Lawyer. A driver's license can be revoked for a number of reasons. Something as simple as forgetting to pay an outstanding fine from a previous traffic ticket, or accumulating too many points on your driving record can result in a revocation of your driver's license. Once your license is revoked, you can be charged with a misdemeanor or even a felony if you are pulled over by law enforcement. Employing an experienced driving while revoked defense attorney can help you make the best decisions on what to do next.
Seeking legal advice from a trusted law firm in your driving while revoked case can help you determine if you should pursue criminal defense for your individual case. The traffic attorneys of Flanagan & Peel, PC, provide clients with honest legal advice about the nature of their case. We will be open about your chances of having a charge reduced or removed in your driving while revoked criminal defense. Our promise is to never mislead our clients or provide them with inaccurate or falsified information. If you have been charged of driving with a revoked license, do not hesitate to contact the traffic law attorneys of Flanagan & Peel, PC.
Experienced Traffic Ticket Attorneys
At the law office of Flanagan & Peel, PC, we are dedicated to providing our clients with trustworthy, honest legal advice. Our priority is to serving the best interests of our clients and offering the best representation available for their traffic violation case. Our team of expert legal professionals work diligently to provide aggressive traffic ticket criminal defense for our clients. We believe that maintaining a positive, meaningful client-attorney relationship starts with open and honest communication.
Learn About Our Firm
Free Case Evaluation
You may also be interested in: