Federal Law Attorney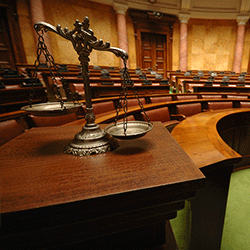 Federal Court Attorneys. When you are faced with accusations of a federal crime, you need an attorney that is knowledgeable, experienced, and honest with you. Being convicted of a federal offense can have life-changing consequences and often results in a loss of freedoms. Trust the law office of Flanagan & Peel, PC, to provide a strong defense for your federal law case and help you with the challenging task of contesting federal charges.
Federal agencies and departments, such as the Drug Enforcement Agency and Federal Bureau of Investigation, have large staffs and vast resources working in favor of federal prosecutors, and against you. The federal court lawyers of Flanagan & Peel, PC, can offer you the strongest protection of your rights as a defendant. We have a long history of success in the federal courtroom. This experience is combined with our compassion for our clients' well being. The top priority of the Flanagan & Peel, PC, law firm is to work in the best interests of our clients while maintaining an open channel of communication to promote a meaningful client-attorney relationship.
Federal Crime Lawyers
An accusation of a federal criminal offense is an overwhelming and intimidating ordeal, but you don't have to go through it alone, or unprepared to face the challenge of defending yourself in the wake of these accusations. The experienced federal crime attorneys of Flanagan & Peel, PC, can assist you in preparing a strong defense. Honesty with our clients is of the utmost importance; you will always have access to all information regarding your case. Put your trust in federal court attorneys who have your best interests in mind, Flanagan & Peel, PC.
Learn About Our Firm
Free Case Evaluation
Federal Court Attorney Services