Traffic Law Defense Attorney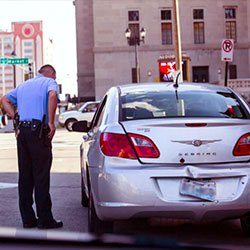 Traffic Law Defense Lawyer. Being on the receiving end of a traffic ticket at some point is a fact of life for many people. A careless mistake, such as going slightly too fast or forgetting to use a signal when turning, can lead to high fines and increased automobile insurance rates. A skilled traffic law lawyer will be able to help you reduce or remove your traffic offense.
Even after paying a traffic violation fine, the infraction can remain on your driving record, causing you problems in the future. A traffic law lawyer at Flanagan & Peel, PC, can offer you the best legal advice on what your next action should be. If you have been issued a traffic ticket, our traffic law defense lawyers can offer you the best representation in court. We are proud of our positive reputation in the community, and many of our past clients return to us for all of their legal needs. Don't suffer heavy consequences for an innocent mistake, call the traffic lawyers at Flanagan & Peel, PC, for all of your traffic violation legal advice.
Traffic Violations Defense Lawyer
The experienced legal professionals at Flanagan & Peel, PC, can assist you in reducing or removing your traffic violation from your driving record. We make a commitment to our clients, and always strive to make choices that are in their best interests. Our extensive legal knowledge, and knowledge of traffic law, make Flanagan & Peel, PC, the office of choice when looking for the best traffic law defense lawyers. Our priority is to providing our clients with the best representation available.
Learn About Our Firm
Free Case Evaluation
Traffic Law Criminal Defense