Slip & Fall Accidents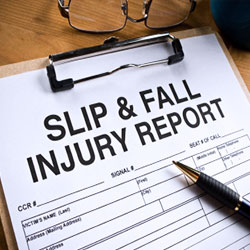 Slip & Fall Injury Claims. Slipping or tripping and falling down, and thus incurring an injury, as a result of a poorly managed and maintained property may entitle you to compensation. Slip & fall accident claims are the most common premises liability claims we see at Flanagan & Peel, PC. We put in the time to accurately collect evidence that may show negligence in the the maintenance of the property where your accident occurred.
The slip & fall accident lawyers of Flanagan & Peel, PC, know how to handle your slip and fall accident claim. A spill with improper signage or a poorly lit area invite danger to visitors of the premises. While many slip and fall accidents come with minor injuries, sometimes serious injuries can occur. These serious accidents can result in loss of income, large medical bills, reduced mobility now and in the future, and pain and suffering. We aggressively fight to get you the compensation you deserve. At the law offices of Flanagan & Peel, PC, we work hard for your trust and establish a meaningful client-attorney relationship for your premises liability law suit.
Premises Liability
Injuries that happen as the result of poorly maintained properties may be eligible for a premise liability claim. It is the responsibility of a property owner or manager to maintain a safe place for visitors. The personal injury lawyers of Flanagan & Peel, PC, can provide you with experienced, quality representation for your premises liability case. We make it our goal to keep you updated on every aspect of your claim so you are always aware of what is happening in regards to your case.
Learn About Our Firm
Free Case Evaluation
You may also be interested in: