Appeals Lawyer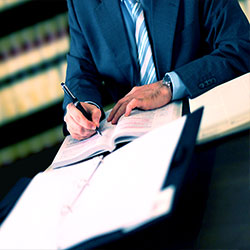 Experienced Appeals Attorneys. An appeal court varies from a normal trial court in that an appeal works to either reverse or affirm a final judgment from a trial court by requesting that a higher court review the case for errors. The law firm of Flanagan & Peel, PC, handles all stages of civil, criminal, domestic, and juvenile appeals. Our team of dedicated appeals lawyers have experience creating compelling appeal briefs that will stand in court.
Approaching a court of appeals is much different than a trial court, and requires a different set of skills and tactics to create an effective appeal. The greatest strength of an appellate lawyer is in the extensive research and superior writing that go into a strong appeals brief. The appeals lawyers of Flanagan & Peel, PC, have the necessary written skills to compose a brief that captivates the appellate judges, and the oratory skills to properly present the brief. We use a thorough examination process to to determine if, and where, the trial court did not act in accordance with the law.
Experienced Appellate Attorneys
The process of appealing a trial court's decision can be lengthy and expensive. Consulting with the experienced appellate attorneys of Flanagan & Peel, PC, is an important first step in the appeals process. We will help you determine the probably of a positive outcome of your appeals case in an open and honest manner. Our priority is to serve the best interest of our clients. Maintaining a positive and meaningful client-attorney relationship is one of the highest values of our firm.
Learn About Our Firm
Free Case Evaluation
Appeals Services