CDL Traffic Ticket Lawyer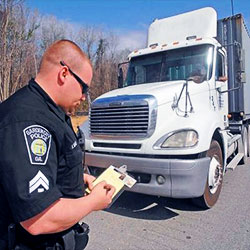 CDL Traffic Offense Attorneys. Receiving a traffic ticket when using a commercial driver's license comes with more severe penalties than a ticket for a non-commercial driver and CDL drivers are held to higher standards as they are generally considered the safest and most responsible of all drivers. Thus, they are held to a higher standard and should be the safest and most responsible of all drivers. However, an innocent mistake can lead to being pulled over by law enforcement, and a CDL Holders' traffic citation can mean a loss of work.
If you are a CDL holder and have been issued a CDL traffic citation, you should contact a trusted traffic law firm right away. A knowledgeable CDL traffic ticket attorney will advise you on the best course of action to getting your ticket reduced or dismissed, thus allowing you to continue working. The law firm of Flanagan & Peel, PC, offers legal services to CDL holders who have been pulled over by law enforcement and given a citation. Our expert traffic offense lawyers will fight aggressively for you in court to help find the best possible outcome for your CDL citation. We have the knowledge of CDL traffic laws necessary to reduce or dismiss your CDL traffic citation.
CDL Citation Attorneys
At Flanagan & Peel, PC, we know that missing work can put a strain on financial resources, and make it difficult to support your family. Through our dedication to serving the best interests of our clients, we can help you make the right legal choices regarding your case. When you put your trust in the experienced CDL traffic ticket lawyers of Flanagan & Peel, PC, you are getting the power of a well-respected law firm. We will never withhold information from you, or give you information that is inaccurate.
Learn About Our Firm
Free Case Evaluation
You may also be interested in: